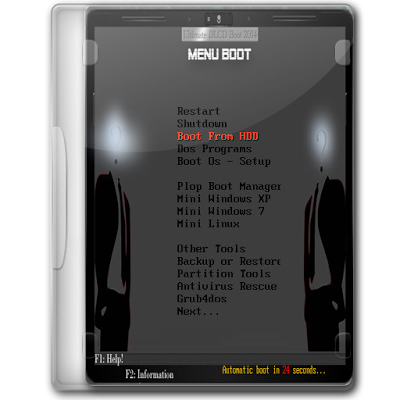 Đĩa CD DLCD khởi động cuối cùng 2015 v1.0 [UEFI-GPT + BIOS-MBR]
Một vài giới thiệu
Hiren 's Boot CD là một
công cụ
gần như không thể thiếu đối với một kỹ thuật viên, các fiddling với các giáo sư, những người yêu thích công nghệ và những người đam mê máy tính.
Được đóng gói trong 1 đĩa CD khởi động có hàng trăm ứng dụng, phần mềm, tiện ích ... rất hữu ích, tuy nhiên do vấn đề bản quyền, tiện ích trước đây được coi là yếu tố quan trọng của đĩa CD khởi động Hiren đã bị cắt đi. nhiều rào cản cho KTV và cũng rất nhiều giải cứu Rebuil Boot CD một lần nữa, mỗi một phong cách, trăm hoa nở rộ.
Với phiên bản trước đó của Boot CD mà LinhHonHuynhDe chia sẻ khá đầy đủ và đủ để đáp ứng nhu cầu trong quá trình giải cứu, tuy nhiên trong quá trình sử dụng máy tính và vẫn khắc phục một số lỗi nhỏ phát sinh nên LHHD đã ổn định sửa lỗi và cập nhật các tính năng nâng cấp là phần mềm cần thiết, nhu cầu mới phát sinh nên LinhHonHuynhDe tiếp tục giới thiệu bạn đến với giải cứu mới Boot CD Ultimate Boot DLCD 2014 đây là
phiên bản cuối cùng
hỗ trợ chuẩn UEFI - GPT song song - MBR BIOS, hy vọng phiên bản này sẽ đáp ứng nhu cầu mới phát sinh trong quá trình sử dụng của bạn.
Mini
Windows 7
đầy đủ mềm.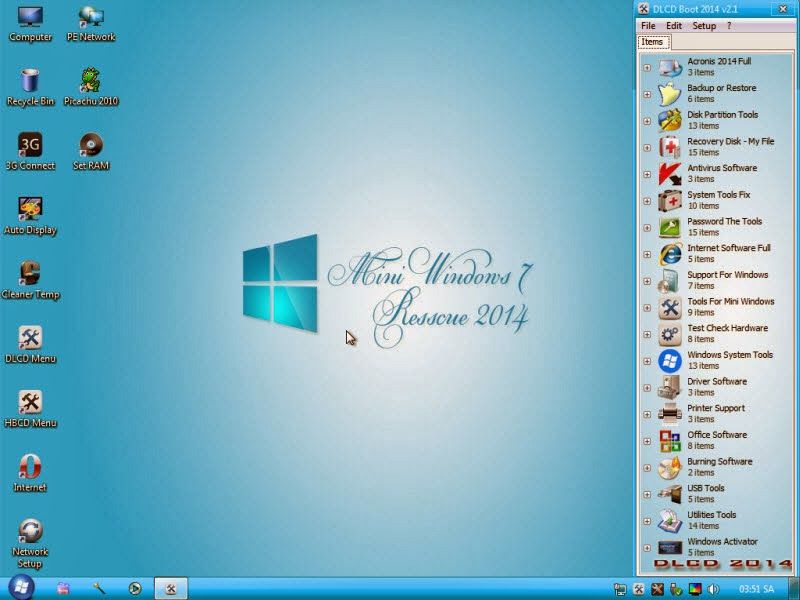 Mini Windows XP đầy đủ mềm.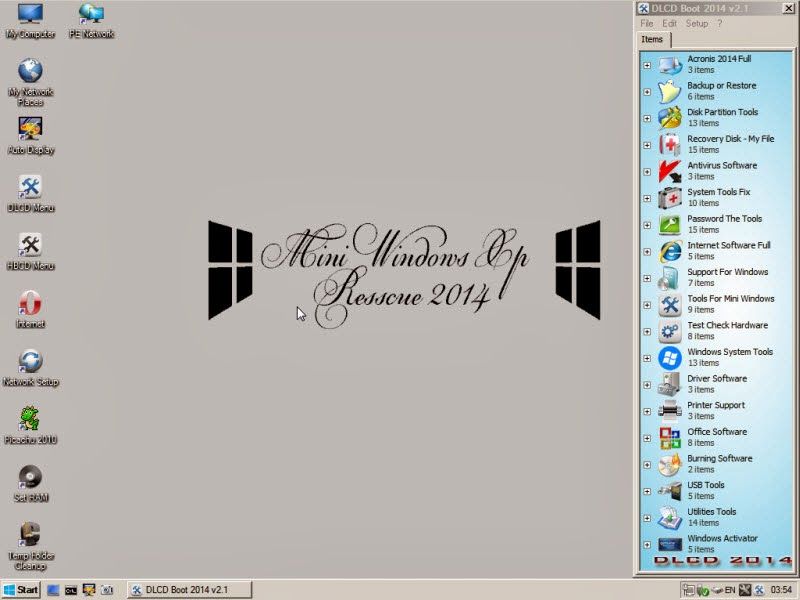 Partition Wizard 8.1.1, Partiton Guru 4.3 Pro, Trợ lý phân vùng 5.2, HDtune, Victoria, Chuyển đổi NTFS ....
Office 2012 Full + Foxit Reader 1.3.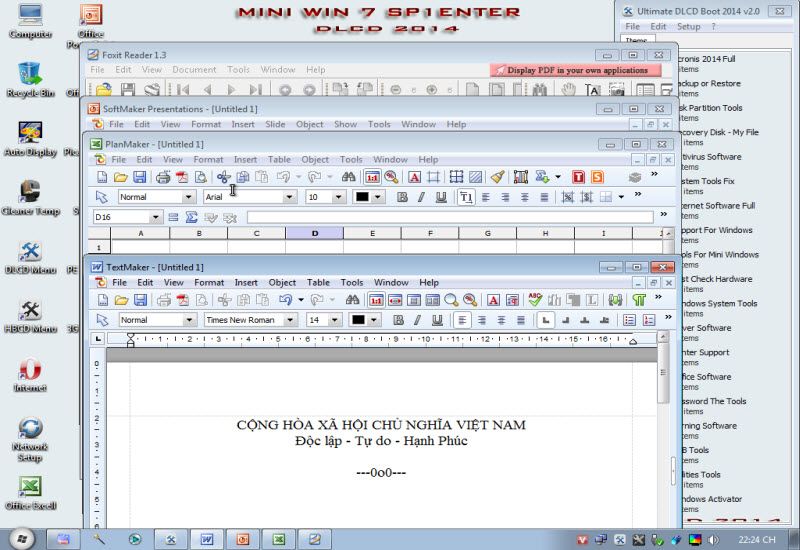 Eset nod32 AntiVirus 7 [07/08/2013].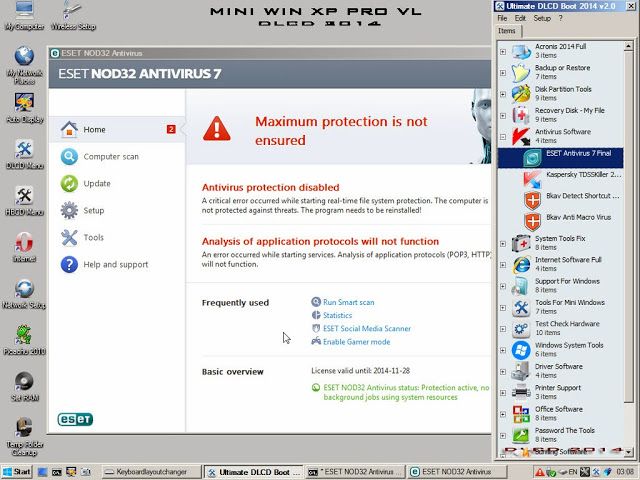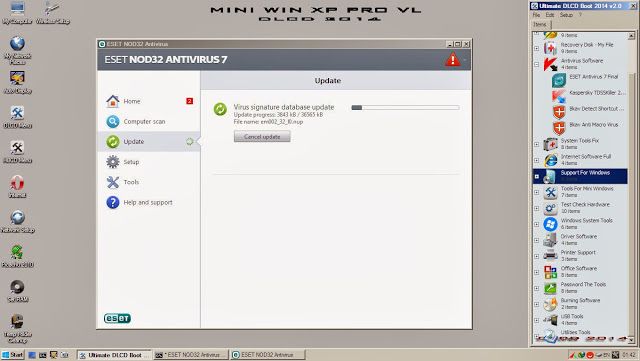 Acronis 2014 Full, Ghost 12, Onkey Ghost...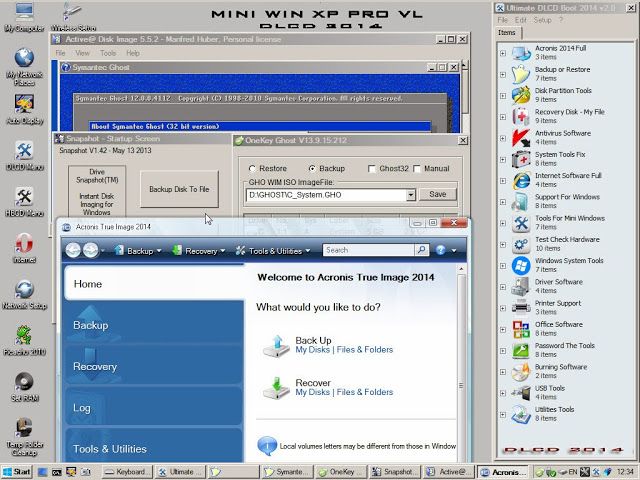 Music - Video - Picture
Support USB 3G.
Opera Edition 12.16 + Flash 11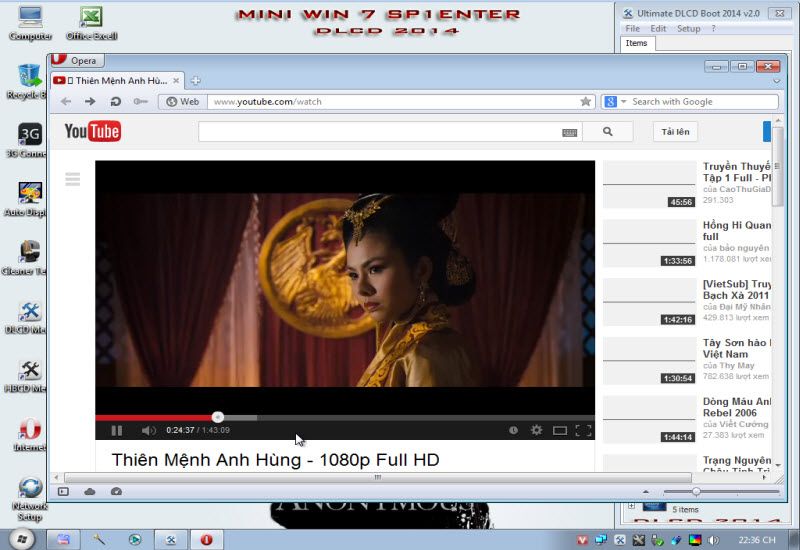 PE Network Manager 0.58.1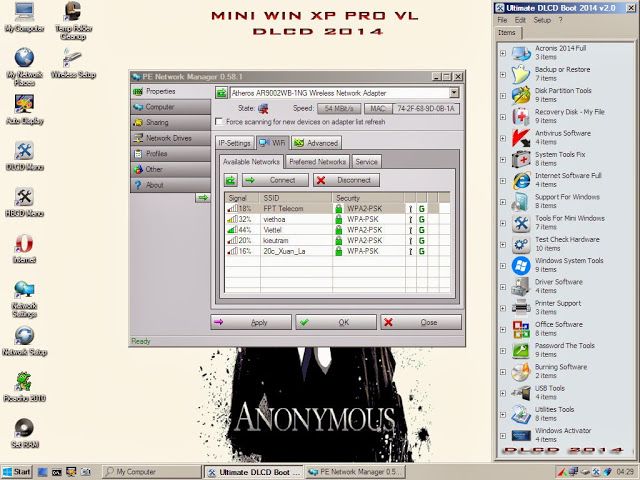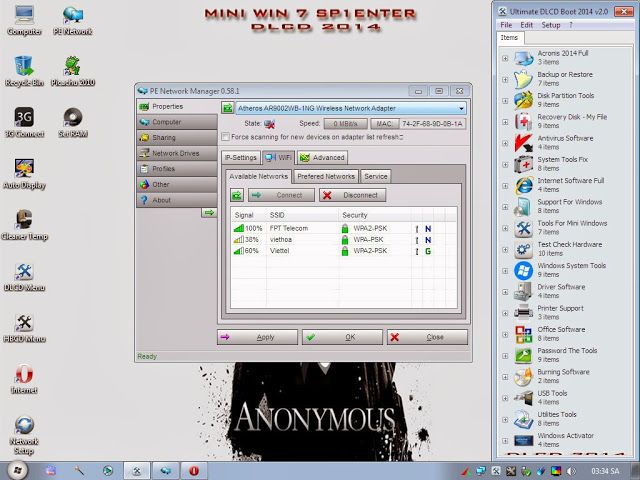 What improvements and changes in Ultimate DLCD Boot 2014 v2.1.2
* Fix Explorer when accessing C drive with
Windows 7
or 8/8.1
* Fix bug when booting FAT32 mode unpacking .
Supports integrated Windows XP/7/8/8.1 ( x86 - x64 )
* Fix integrated DLCD Ultimate x64 OS Boot up
* Fix bug when creating USB Boot OS running on x64
* Fix bug when software applications running on x64 OS
* Fix a Desktop shortcut will not open applications ( only on VMs )
* Fix security applications off the mini USB Win 7
* Fix Menu 1 applications and anti-virus were misidentified .
* Reduce the personalized details .
* Support USB , HDD Box 3.0, USB 3G , Internet LAN - WLAN
* Fix missing error radical mini desktop icons on win
* Fix App , win a mini fix , fix error Restart . shutdown ( DOS )
* Upgrading and improvement
tool
AIO Boot
* Upgrade menu , additional modules ....
* Update , additional software, applications
v2.1.2
Software update
:
[ 01 ] CrystalDiskInfo 6.1.9
[ 02 ] PartitionGuru Pro 4.5.0
[ 03 ] 3DP Chip 14.02
[ 04 ] KMSpico 9.2.2 RC
[ 05 ] CCleaner Technician Edition 4.11.4619
[ 06 ] Partition Assistant Server Edition 5.5
[ 07 ] Drive Snapshot 1.43.16699
[ 08 ] Active@ Disk Image 6.0.1
[ 09 ] Active@ Diexplorer 6.0.1
[ 10 ] Active
File
Recovery 12.0.5
[ 11 ] CMOS De-Animator v3
[ 12 ] Folder Transfer 3.12 Enterprise
The utility in DOS
- Backup Tools:
[ 01 ] Norton Ghost 11.5.1
[ 02 ] TeraByte Image 2.82
[ 03 ] True Image 2014 Premium v17 Buil 6673 Full
-
Password
Tools:
[ 01 ] Active
Password
Changer 5.0.011 [Remove
Password
]
[ 02 ] Win
Password
Changer Offline
[ 03 ] KonBoot 2.4 [Login without your
password
]
- Hard Disk Tools:
[ 01 ] HDD Regenerator 2011 Full
[ 02 ] HDAT2 v5.0 Full
[ 03 ] Ontrack Disk Manager 10.46
[ 04 ] Partition Table Doctor 3.5
[ 05 ] Norton Disk Doctor 2002
[ 06 ] Norton Disk Editor 2002
[ 07 ] Active@ KillDisk v 4.1
[ 08 ] Victoria 3.52
[ 09 ] MHDD 4.6 [Test Hard Drive]
- Partition Tools:
[ 01 ] Partition Wizard Professional Edition 8.1.1
[ 02 ] Acronis Disk Director 10.0.2160
[ 03 ] Partition Magic Pro 8.05
[ 04 ] Paragon Hard Disk Manager 12 (10.1.19.1640)
[ 05 ] Patition Guru 4.3.0 Professional
[ 06 ] Active@ Partition Recovery v3.0
[ 07 ] Ranish Partition Manager 2.44
[ 08 ] FDISK 1.3.1 (New)
[ 09 ] Super Fdisk 1.0
[ 10 ] Smart FDISK 2.05
[ 11 ] SPecial FDisk 2000.03v
[ 12 ] eXtended FDisk 0.9.3
- Other Tools:
[ 01 ] MemTest 86+ 5.0 RC1
[ 02 ] NTFS Ext2FS, Ext3FS (FileSystems)
[ 03 ] NTFS4Dos 1.9
[ 04 ] Plop Boot Manager 5.0
- Testing Tools:
[ 01 ] HDAT2 v5.0 Full
[ 02 ] MemTest 86+ 5.0 RC1
[ 03 ] HWiNFO - Hardware info
Tool
5.5.2
[ 04 ] SeaTools 2.32 [Test Full]
[ 05 ] System Speed Test 4.78 (CPU Test)
[ 06 ] CPU-Video-Disk Performance Test 5.7
[ 07 ] Test Hard Disk Drive 1.0
[ 08 ] Samsung Quick
Tool
1.9
- MBR (Master Boot Record)
[ 01 ] MBR Work 1.08
[ 02 ] MBR
Tool
2.2.100
[ 03 ] DISKMAN 4.2 (For mbr,bootrecord,cmos...)
[ 04 ] BootFix Utility (bootfix)
[ 05 ] MBR SAVE / RESTORE (bootsave,bootrest)
[ 06 ] Boot Partition 2.60
[ 07 ] MBRWizard 2.0b
- BIOS/CMOS Tools:
[ 01 ] CMOS Save / Restore
Tool
[ 02 ] BIOS Cracker 5.0
[ 03 ] BIOS Utility 1.35.0 (bios)
[ 04 ] !BIOS 3.20 (ibios)
[ 05 ] DISKMAN 4.2
[ 06 ] UniFlash 1.40
[ 07 ] Kill CMOS (WipeCMOS)
[ 08 ] Award DMI Utility 2.43
-
File
Managers
[ 01 ] CMOS Save / Restore
Tool
[ 02 ] BIOS Cracker 5.0
[ 03 ] BIOS Utility 1.35.0 (bios)
[ 04 ] !BIOS 3.20 (ibios)
[ 05 ] DISKMAN 4.2
[ 06 ] UniFlash 1.40
[ 07 ] Kill CMOS (WipeCMOS)
[ 08 ] Award DMI Utility 2.43
- Recovery Tools:
[ 01 ] TestDisk 6.14b
[ 02 ] PhotoRec 6.14b
[ 03 ] Partition Recovery 3.0
[ 04 ] Active@ Partition Recovery v3.0
- Game in Dos:
* Mario Super for Dos
The utility of the Mini Win Xp - Mini Win 7:
- AntiVirus/Spyware :
[ 01 ] ESET NOD32 Antivirus 7 Final
[ 02 ] Kaspersky TDSSKiller 2.8.18
[ 03 ] Show Hide Folder (Virus hide folder)
[ 04 ] BKAV Anti Macro Virus
[ 05 ] AutorunFix MFC
Application
[ 06 ] Bkav Detect Shortcut
File
Virus
- Support For Windows:
[ 01 ] WinNTSetup v3.3
[ 02 ] NT6x Fast
Install
Support x86 - x64
[ 03 ] BootICE 1.3.2.1 En-Vn-Fren [MBR-PBR]
[ 04 ] EasyBCD Edition 2.2.0.182
[ 05 ] FbinstTool 1.606 [USB Universal boot making tools]
[ 06 ] WimTool - WIM 1.30
[ 07 ] Grub4Dos
Setup
[ 08 ] FastStone Capture 7.7
- Disk Partition Tools:
[ 01 ] Partition Wizard Server Edition 8.1.1
[ 02 ] Disk Genius Professional 4.3 Vietnamese - English
[ 03 ] Partition Assistant Server Edition 5.5
[ 04 ] HD Tune Pro 5.50
[ 05 ] HDD Low Level
Format
Tool
4.40
[ 06 ] MapDrive 1.0
[ 07 ] Dynamic Disk Converter 3.5 Pro
[ 08 ] NTFS to FAT32 Wizard 2.4 Pro
[ 09 ] PartAssist Ntfs2Fat32 Convert 2.0
[ 10 ] Lazesoft Disk Image 3.4.1
- Tools For Mini Windows:
[ 01 ] CCleaner Technician Edition 4.10.4570
[ 02 ] Cleaner TEMP For Win 7-XP
[ 03 ] Enable TeraCopy Pro 2.27
[ 04 ] Disable TeraCopy Pro 2.27
[ 05 ] Set PageFile
[ 06 ] ImDisk Virtual Disk Driver 1.7.6
[ 07 ] UltraISO Premium 9.6.1.3016
[ 08 ] Everything 1.2.1.375
[ 09 ] On-Screen Keyboard
- Internet Software Full :
[ 01 ] Opera Internet Edition 12.16
[ 02 ] Internet
Download
Manager 6.19
[ 03 ] TeamViewer 6 [PE]
[ 04 ] TeamViewer 9.0.24951Premium [OS]
[ 05 ] uTorrent 3.4 Final
- Office Software:
[ 01 ] Foxit Reader 1.3
[ 02 ] Office 2012 Buil 679 Full
[ 03 ] Unikey 4.0 Final
[ 04 ] Microsoft Paint 5.1
[ 05 ] Notepad 6.5.1
[ 06 ] Font
Install
- Backup
- Test Check Hardware:
[ 01 ] AIDA64 Business 4.00.2700
[ 02 ] Victoria 4.47
[ 03 ] HWiNFO32 v4.34-2130
[ 04 ] CPU-Z 1.68.0
[ 05 ] Video Memory Stress
Test 1
.7.116
[ 06 ] Is My LCD OK 2.34
[ 07 ] BatteryMon 2.1.1004
[ 08 ] KeyboardTest v3.0 buil 1004
[ 09 ] CrystalDiskInfo 6.1.8
- Recovery Disk - My
File
:
[ 01 ] Active Partition Recovery 10.0.2
[ 02 ] Active
File
Recovery 12.0.3
[ 03 ] Un Fomat 3.0.8
[ 04 ] GetData Recover My Files Pro 5.2.1.1964
[ 05 ] EASEUS Data Recovery Wizard Pro 7.0
[ 06 ] MiniTool Power Data Recovery 6.8
[ 07 ] iCare Data Recovery Professional 5.4
[ 08 ] Card Recovery 6.10.1012
[ 09 ] Ontrack Easy Recovery Enterprise 11.0.2
[ 10 ] Partition Find and Mount Pro 2.31
[ 11 ] Eassos PartitionGuru Pro 4.3.0
[ 12 ] Recuva Technician Edition 1.50.1036
[ 13 ] Lazesoft Data Recovery 3.4.1
[ 14 ] Lazesoft Windows Recovery 3.4.1
- Acronis 2014 Full :
[ 01 ] True Image 2014 Premium v17 Buil 6673 Full
[ 02 ] Acronis Disk Director 11 update 2
[ 03 ] Remove Driver Acronis [XP/7/8]
- Backup or Restore Windows:
[ 01 ] Norton Ghost 12.0.0.4112
[ 02 ] Drive Snapshot 1.43.16699
[ 03 ] Active@ Disk Image 5.6.2
[ 04 ] Active@ Diexplorer 5.6.2
[ 05 ] Ghost Explorer 12.0.0.4112
[ 06 ] GhoHash Check
File
1.3
- Other Utilities Tools :
[ 01 ] Total Commander 8.50
[ 02 ] ResHacker 3.6.0
[ 03 ] WimTool 1.30.2011.501
[ 04 ] Registry Workshop 4.6.2
[ 05 ] 7-Zip 9.20
[ 06 ] File Splitter Joiner
[ 07 ] Delete Doctor 2.3
[ 08 ] Unlocker 1.92
[ 09 ] HxD Hex Editor 1.7.7.0
[ 10 ] Registry Editor PE v1
[ 11 ] Registry Backup
[ 12 ] TweakUI for XP
[ 13 ] UltimateWindowsTweaker
- USB Tools:
[ 01 ] USB Disk Storage Format 2.2.3
[ 02 ] Rufus 1.4.3 (Build 385)
[ 03 ] Flash Memory Toolkit 2.0
[ 04 ] SD Formatter 3.1
[ 05 ] USBDeview (Uninstall USB devices)
- System Tools For Windows :
[ 01 ] Total Uninstall 6.3.4 Full
[ 02 ] Defrag Technician Edition 2.17.898
[ 03 ] DNS Jumper 1.0.6 [DNS]
[ 04 ] PC Hunter (XueTr) 1.32 Final
[ 05 ] Smart Toolbar Remover
[ 06 ] WiFi Hotspot Utility EN
[ 07 ] WiFi Hotspot Utility VN
[ 08 ] Edit Hosts File
[ 09 ] Everything 1.2.1.375
[ 10 ] DisableAutorun
[ 11 ] Startup CPL 2.8
[ 12 ] CCleaner Technician Edition 4.11.4619
[ 13 ] Process Explorer v16.01
- Password The Tools :
[ 01 ] Lazesoft Windows Password Recovery 3.4.1
[ 02 ] Proactive System Password Recovery 6.51.267.0
[ 03 ] Active Password Changer Pro 5.0.011
[ 04 ] Passcape Reset Windows Password
[ 05 ] NTPWEdit 0.4
[ 06 ] Anti Deep Freeze 0.1
[ 07 ] Anti Deep Freeze 0.4
[ 08 ] CMOS De-Animator v3
[ 09 ] PDF Password Remover 5.0
[ 10 ] WebBrowser Password Viewer
[ 11 ] Wireless Key View 1.68
[ 12 ] BIOS Master Password Generator
[ 13 ] Router Passwords
[ 14 ] Word Password Recovery Master
[ 15 ] Excel Password Recovery Master
- Driver Software
[ 01 ] Driver Genius Pro v12.0.0.1314
[ 02 ] 3DP Chip 14.01
[ 03 ] Double Driver 4.1
- For Mini Xp - Windows 7:
[ 01 ] PotPlayer 1.5
[ 02 ] IrfanView 4.33
[ 03 ] Unlocker 1.92
- My Printer fixed:
[ 01 ] Print Queue Cleaner 1.1
[ 02 ] Fix My Printer 1.0
[ 03 ] Resetting Epson Printer
- System Tools Fix:
[ 01 ] NTBoot Auto Fix 2.5.7
[ 02 ] Fix Windows 7 v1.2
[ 03 ] Fix Boot Logon 2.0 Final
[ 04 ] XP Quick Fix Plus
[ 05 ] Fix NTLDR is Missing
[ 06 ] Process - File Killer
[ 07 ] Full Show Hidden 1.0
[ 08 ] Show Hide Folder (Virus hide folder)
[ 09 ] AutorunFix MFC Application
[ 10 ] Fix HDC
- Trình kích hoạt Windows:
[01] Xóa WGA 1.2
[02] RemoveWAT 2.2.7
[03] Trình tải xuống Windows 2.2.1
[04] HEU KMS Activator 7.8.3
[05] KMSpico 9.2.1 Final